Blog
December 30, 2008
The New Seabees Documentary Film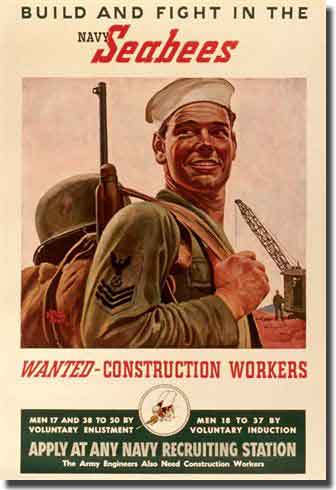 The NEW Seabees Documentary Film
Award-winning director RJ McHatton was going to make a movie about his sister Patty and her experience serving her nation as a Navy Seabee in Iraq. Then the word got out and RJ started getting calls from Seabees from World War II, Korea, Vietnam and the Gulf Wars. The calls were very emotional and powerful. Everyone told RJ that there really needs to be a real movie made about the Seabees.
So RJ McHatton has taken on the task to create a new documentary film about the NEW fighting Seabees. Using interviews with the men and women who have served as a Seabee, our goal is to tell the history and human story of the Navy Seabees.
IRAQI FREEDOM
AFGHANISTAN
We need your help! If you are a Seabee, we need your Story!
To be interviewed for this documentary film, please contact
RJ McHatton
Inventive Productions LLC
(425) 284-1900
Zane Garinger - 2011-02-05 15:01:08
Just found this site and a day late to give past info of my career with the BEES. On the next docu though I sure would share some great stories. Not only about the BEES, but all the local folk around the globe. They were all a part of me being who I am now!!
Ron Fluehe - 2009-01-04 21:18:06
Small world. Kurt and Liz Micka have been friend of mine since about 1993. I was just typing in names of people I know and ran into his page with a link to your page and low and behold at the top of the page was SEABEES. I served with 2 Seabee Battalions from 1973 to 1976. Although I was a fleet sailor as a Damage Controlman, I was put into a Seabee Battalion because of some of my training and skillsl I should have cross rated into a Seabee rating. I could have stayed in the Navy for 30 or 35 years with that group of men. We didn't have any women as part of the Battalion as far as I can remember back then. I served with MCB 3 in Port Hueneme, 31st NCR till discharge, and then with MCB 2 a reserve unit at the time in Salt Lake City at Fort Douglas. I would love to see something done about the Seabees. Most have never heard of them, and they are really the beginning of the UDT and SeAL teams of today.
Note: All comments must be approved by the post author.