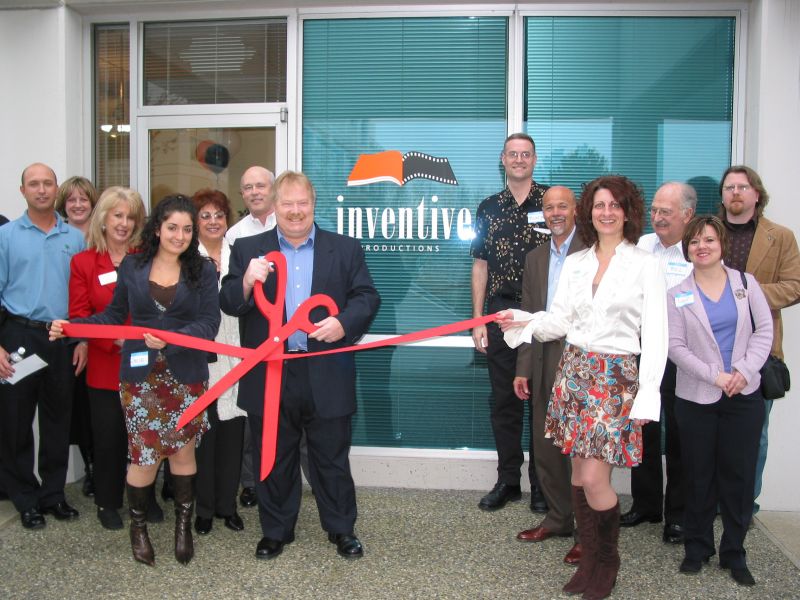 News from Inventive Productions


NEWS


Our mission is to help you to capture and achieve your Vision through a professionally made, custom built, winning Video or Film.

Here are some projects we are either still working on, or have recently completed.


---


VIDEO BIOGRAPHY OF ERIC ROBERTS

I had a great time interviewing and meeting Dr. Eric Roberts from Los Angeles.
Eric worked for fifty years as a doctor of internal medicine. I was very moved by his story of his youth growing up in Germany and how his mother brought him to America. He told me the tragic tale of his father and how many of his family were lost in the Holocaust.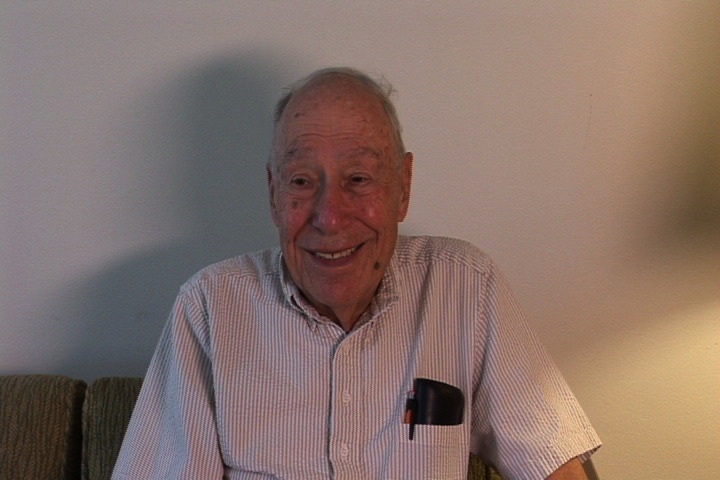 Dr. Eric Roberts


---
HOLLINSHEAD PARK - VIDEO BIOGRAPHY OF A PARK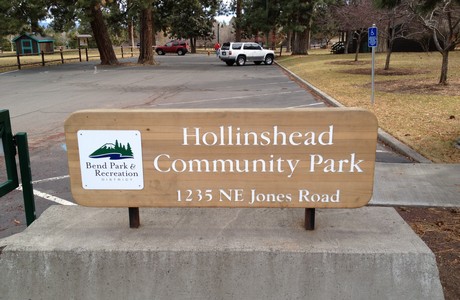 I had a wonderful experience interviewing Sharron Rosengarth for the History Video of
Hollinshead Park in Bend, Oregon. The Bend Parks and Recreation Department wanted me to capture the history of the park for future generations. Sharron's family donated the historical farm property to the city and was instrumental in the restoration of several of the original Farm House and outbuildings, and Sharron leads historical tours of the property to kids and groups. CLICK HERE TO learn more about this cool park.



---
MEDAL OF HONOR RECIPIENT BOB MAXWELL

I feel greatly honored to meet and interview today a true American hero, Medal of Honor recipient Bob Maxwell. During World War 2, after tough battles in North Africa, Tunisia, Sicily, Italy, and almost losing his leg at Anzio, Bob rejoined his US Army infantry unit and went into battle in Southern France. As his unit was being overrun by the Germans, without a moment to think, Bob literally placed his body over a German hand grenade to save four other American soldiers. For this act of bravery, Bob spent a long time in hospitals and was given the Congressional Medal of Honor, The French Legion of Honor, two Purple Hearts, the Silver Star and more ! Today Bob is the oldest living recipient of the Medal of Honor. He and his wife Beatrice have been married 63 years!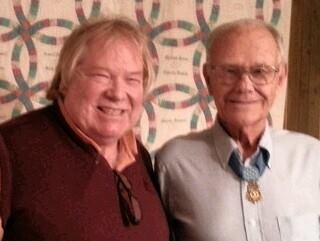 RJ McHatton with Medal of Honor recipient Bob Maxwell


---
---
---
JIM AND FANNIE CATE

---


Great video biography interview today with World War Two veteran Jim Murphy. Jim served in the US Army Air Corp in the 83rd Airdron Squadron of the 19th Air Force. Jim landed on Omaha Beach on June 13th. After going inland for a few miles his job was to load up the guns and bombs on the P47s on the 3000 foot airstrip created by the Army Corp of Engineers. Jim told me great stories about his experiences in France, including the time he got busted down from Corporal to Private after partying too hard on his 21st birthday. Jim told me stories about his traveling over on the Queen Mary with 18000 soldiers and of sad memories of the people who died over there. After the war Jim got married, had some kids, and went to college on the GI Bill. Jim had a successful career in the life insurance business and has been married 65 years!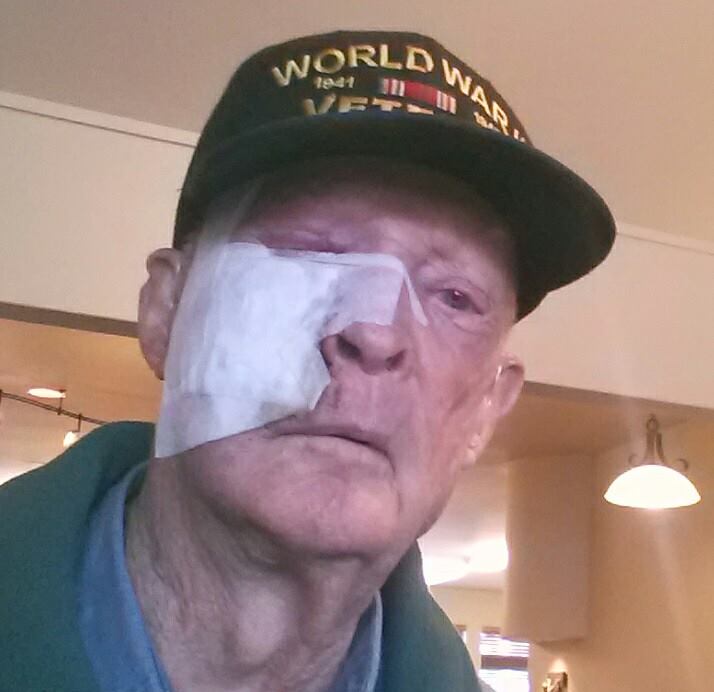 JIM MURPHY

---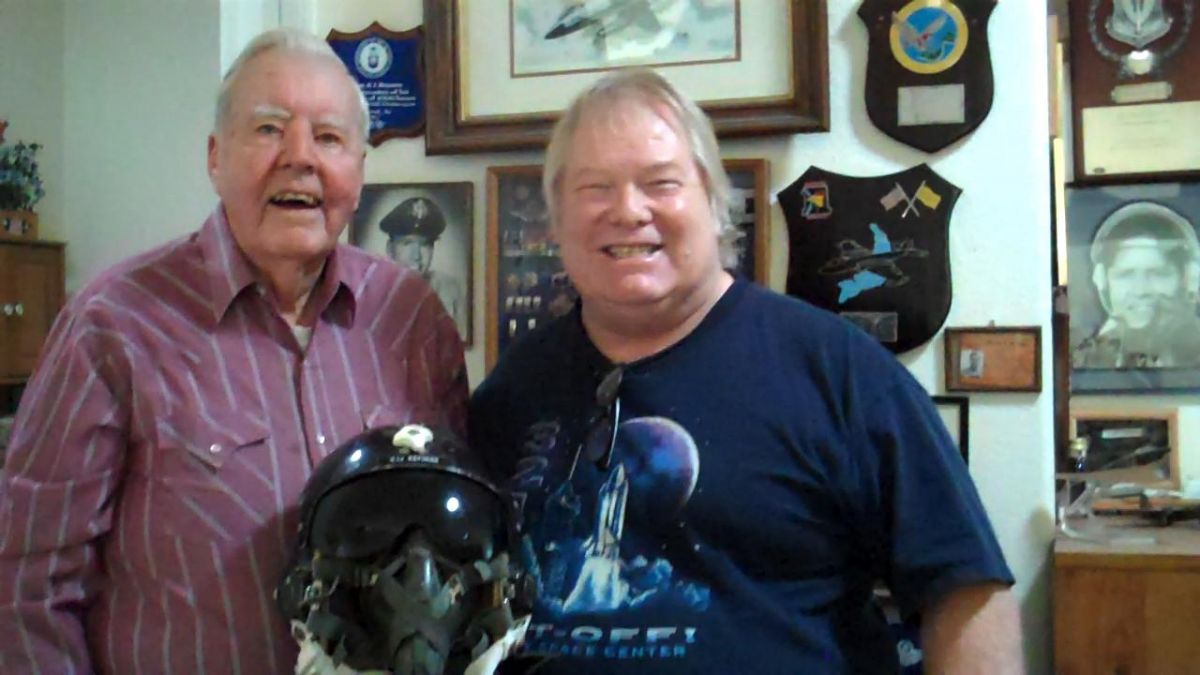 GERALD REPONEN WITH FILMMAKER RJ MCHATTON

Amazing two days video interviewing Gerald Reponen who served for 20 years in the US Air Force as a Reconnaissance pilot of the B-66s and B-57s. There were a lot of stories he couldn't tell me because they are still classified, but Gerry was able to tell me some incredible stories about his experiences taking aerial infrared photography during the Cuban Missile Crisis and three tours in Vietnam. Gerry told me incredible tales of close calls and his management of 60 recon jet pilots during the war. He told me about how emotional and tough it was to lose pilots during daily missions. Gerry has earned numerous awards including the Bronze Star and two or three Distinguished Flying Crosses! Gerry and his wife Ruth are celebrating their 66th wedding anniversary this week.

---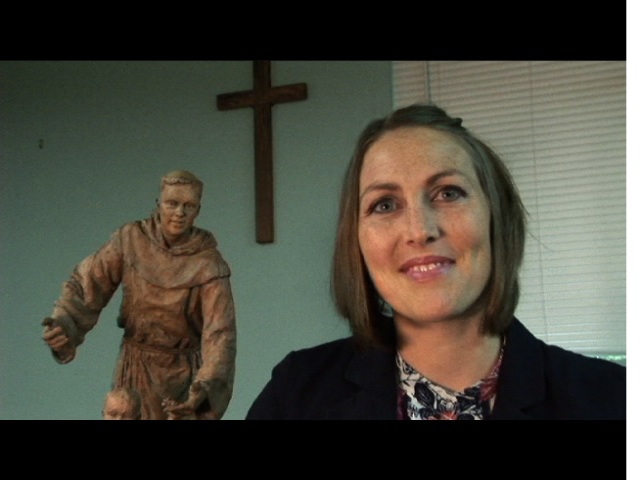 Mardie Rees

I truly enjoyed meeting and interviewing Mardie Rees, figurative sculptor in Gig Harbor, WA. Mardie is building a massive, huge bronze sculpture of St. Anthony and a baby for a hospital in Denver. She told me about how she became a sculptor and all the amazing little processes involved in making a sculpture look real. She uses live human models in her studio while she shapes her clay and takes measurements and moves armatures like bones to make the people look real. Even at her young age, Mardie has been making sculptors for fifteen years. Next month she will be traveling to Quantico, Virginia where a new bronze piece "Soul of the Forward and Faithful" will be dedicated at the National Museum of the Marine Corps. You can learn more about Mardie at www.mardierees.com


---
---
---
---
---

RJ Interviews World War II Veteran Henry Tiano

---


Great article in the Ageless Section of the Bend Bulletin about RJ McHatton's video biography experiences: CLICK HERE


---
I am so blessed to have made a video biography of a wonderful artist, mother, grandmother, and woman of faith. I was totally inspired by this incredible woman, Kathleen Pulsipher.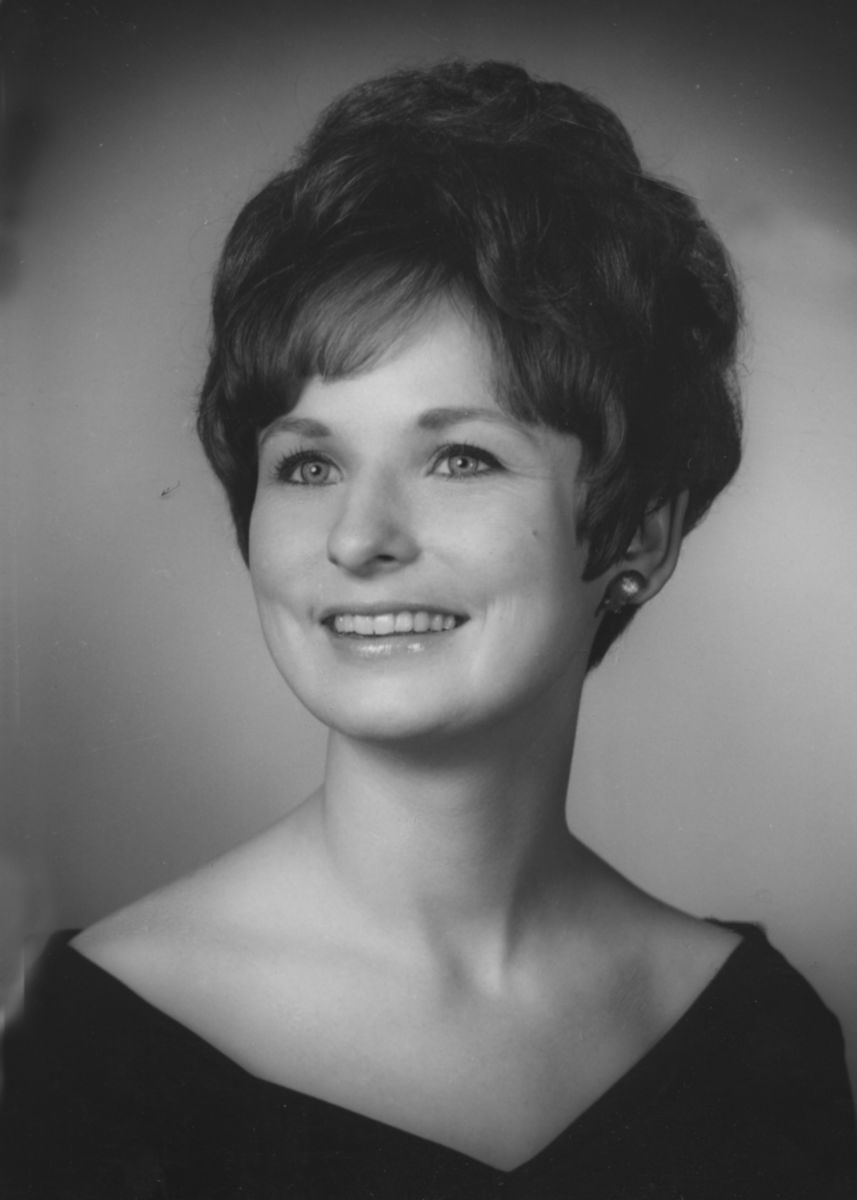 Kathleen Pulsipher

---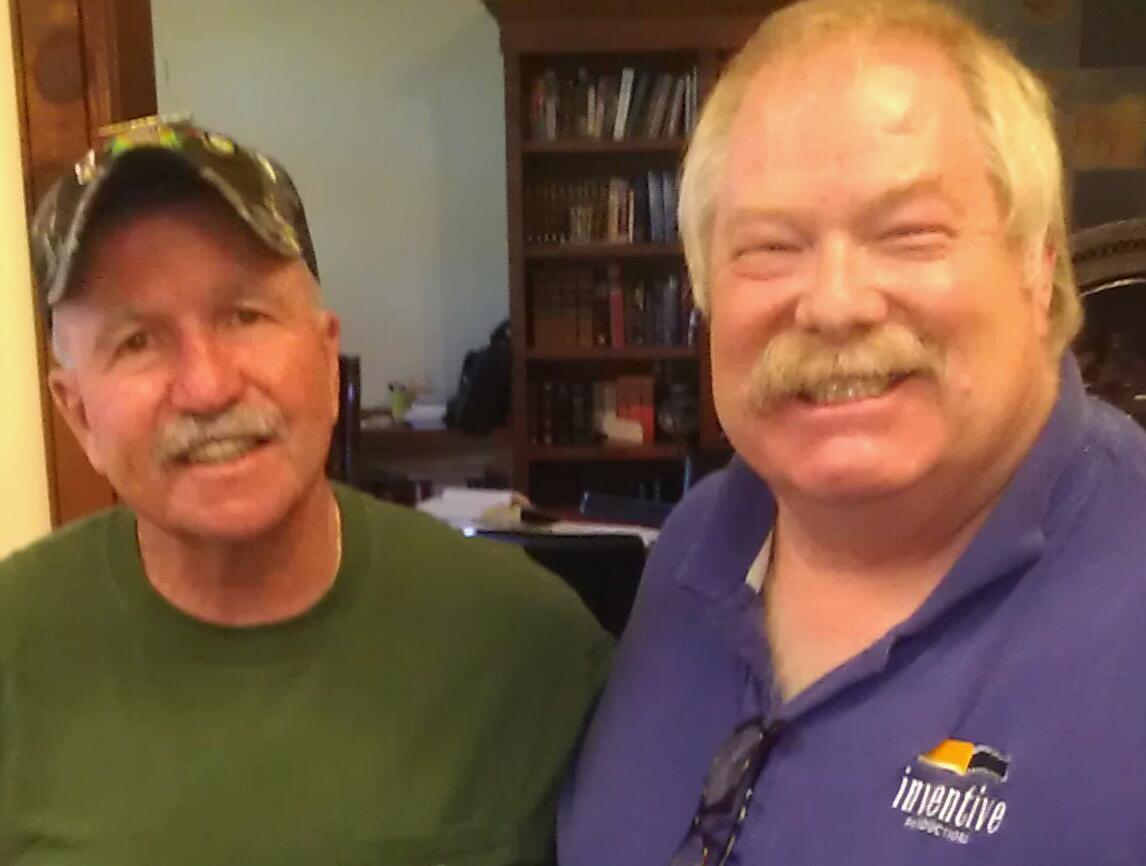 Had an amazing video biography interview yesterday with Joseph M. Gallagher who served in the First Marine Division, 3rd Battalion, 7th Marine Regiment, Kilo Company, First Platoon in the US Marine Corp as a rifleman and "tunnel rat" in the Vietnam War. Joseph told me he enlisted as a Marine in1966 knowing he would probably go to Vietnam. It wasn't long before he was there and in battle his first day. Mr. Gallagher fought in several battles at places with names like Hill 55. He talked about the day he was shot up several times by the enemy in a rice patty. He told me the heroic story of a fellow Marine who risked his own life in the middle of the battle to pick up Joseph, put him over his shoulder and carry him 100 meters to a medic. The medic worked on Joseph for 45 long minutes until the dual rotor helicopter picked him up in a rain of gunfire shooting everywhere. Joseph talked about some of the difficulties he experienced once he got back home, but he had a great family who supported him. Joseph said he talks to that Marine who saved his life every week on the phone. He says his friend lives in New Jersey. Joseph earned the Purple Heart and eight other medals during his service as a US Marine.
---
---
---
World War II veteran Jack Cooper


---

It's been a fantastic experience creating the Video Biography of Nish Zundel from Salt Lake City. Nish has lived an amazing life. From jet fighter pilot to gold miner to entrepreneur. Nish Zundel really has led a Wonderful Life. I am proud to help create his video biography.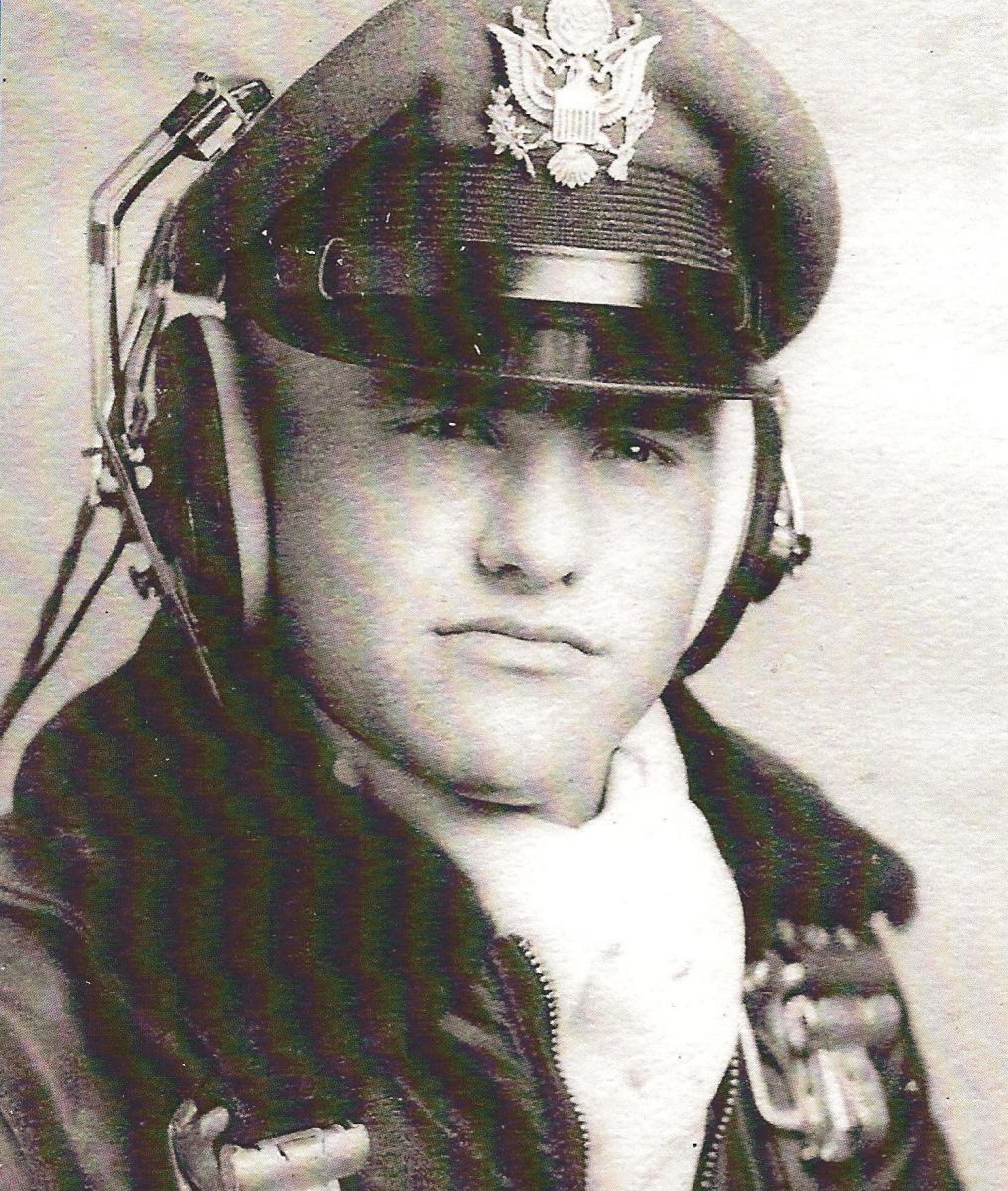 Nish Zundel


---

We are in post production on a fantastic Video Biography of Marilyn Ferguson. I was so impressed with her story of meeting her husband on a train during World War II. And they were married over 50 years. It always amazes me how one chance moment can change a life into a whole new direction. Fascinating story of an Air Force family who travelled all over the world to serve our country. Very nice people.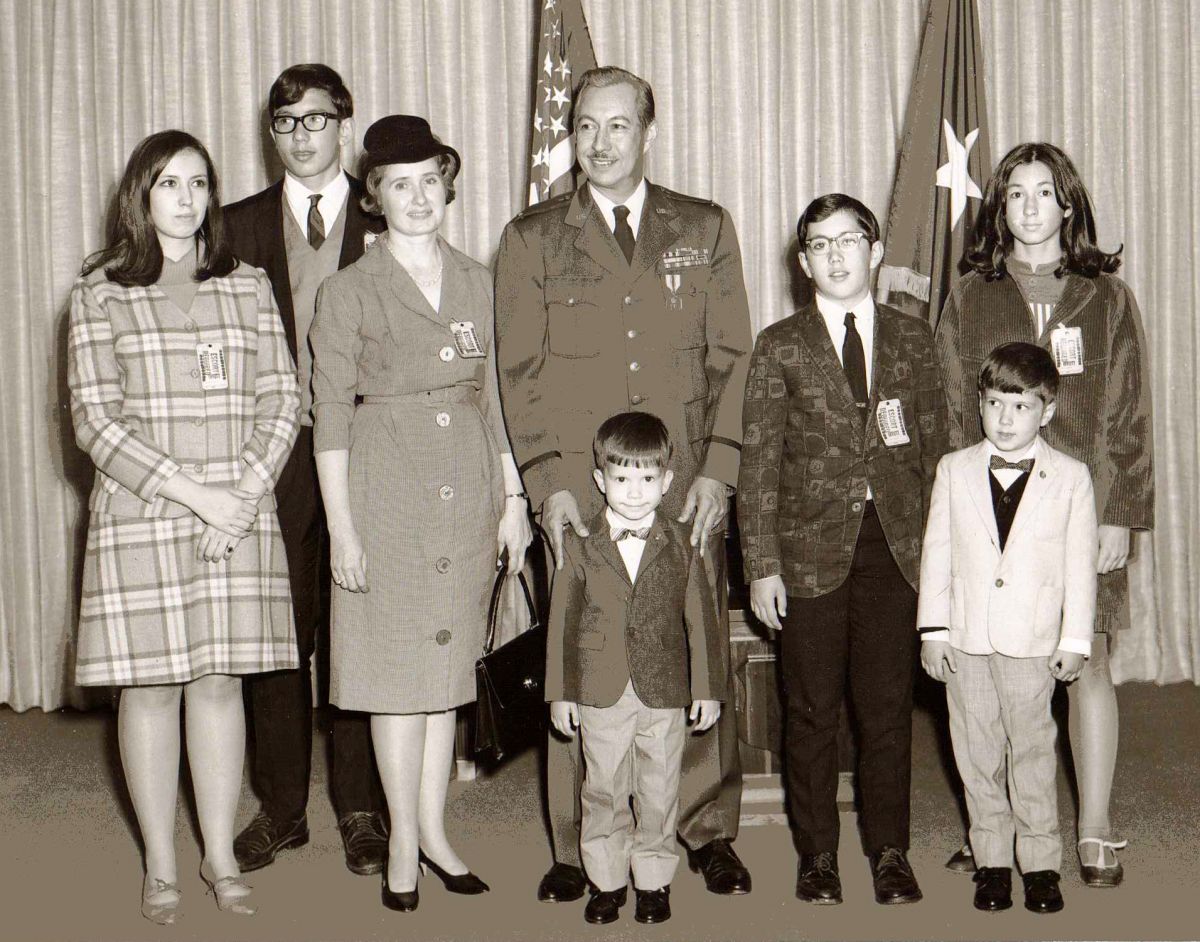 The Ferguson Family


---

Very sad to hear news of the passing of the incredible hero John D. "Bud" Hawk. Bud Hawk was a recipient of the Medal of Honor, given to him by President Harry S. Truman for his heroic service in France during WWII.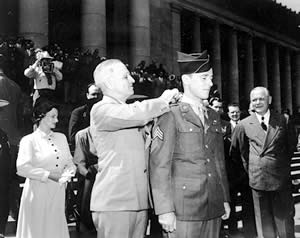 President Harry Truman giving John "Bud" Hawk the Medal of Honor.

I first met Bud Hawk when we started Inventive Productions back in 2005. With Bud Hawk's help, we put together a wonderful documentary about Bud's life. We called the film "America's Hometown Hero" because Bud Hawk really was a regular hometown type of guy who became a true American Hero. I am blessed to have known Bud Hawk. I hope you enjoy the video biography we made about Bud's incredible life.

I just uploaded the complete uncut video biography of Medal of Honor recipient John D. "Bud" Hawk onto his website, so you can watch the entire video biography "America's Hometown Hero" for free online. Here is a link to his website: www.budhawk.com


---
We just completed a marketing video for Leif Johnson at Exvere, Inc.


I have known RJ McHatton of Inventive Productions for nearly a decade and have always been impressed with his enthusiasm and positive energy. Recently my organization needed a marketing video to be made on-location at a distant property with a limited budget and a short turnaround. I knew the person to call would be RJ because of his flexibility and the wide variety of projects he's done in the past. RJ was great to work with. He met me at the property and he was very professional working with my team and my client. He put the video together in a timely manner and was a good listener and took our feedback and folded it into the end product seamlessly. RJ created several drafts based on our feedback until we were completely satisfied, and without hesitation. I definitely recommend RJ and Inventive Productions for any video project you might need.
Leif S. Johnson
Senior Director
Exvere Inc. | Private Investment Banking
1301 Fifth Avenue, Suite 3405 | Seattle, WA 98101
p 206.728.1800 | f 206.728.7611 | c 206.683.3814
www.exvere.com
|
There's a Great Deal at Stake
---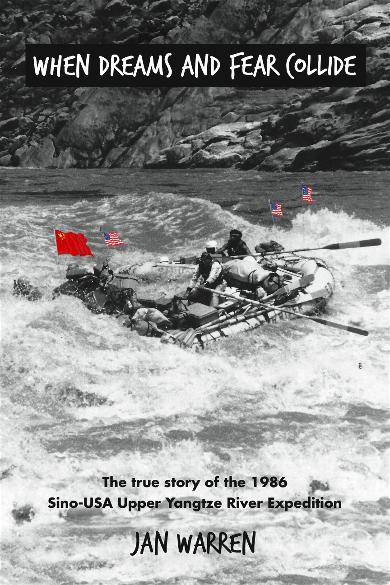 It's been a wonderful journey, helping Jan Warren put together her photos and videos about her incredible true story adventure and expedition in 1986 becoming the first to rat down the mighty Yangtze River. Jan's new book is almost ready to go to press and we can't wait to read it. You can learn more about Jan's adventures at http://sino-usariverexpedition.com/6.html


---


Lisa and Linda "Make your Music Shine"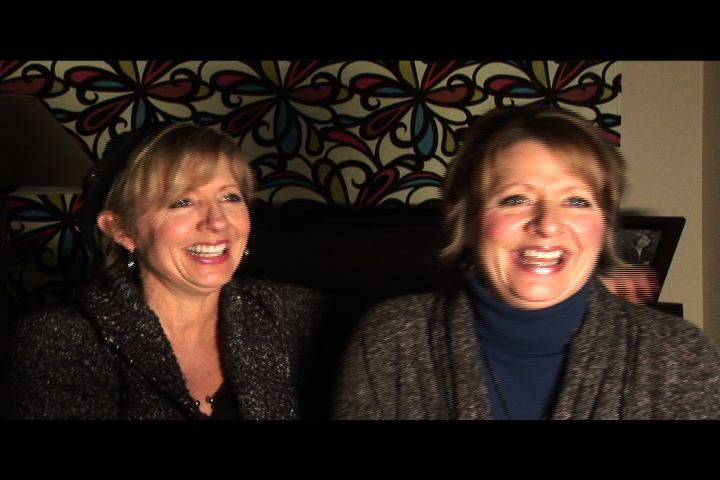 Twin sisters Lisa Grace and Linda Sebenius

It's been awesome putting together a biographical video for the stars "Lisa and Linda"
who have performed over 400 shows for kids at the Seattle Symphony. They really
can sing! You can learn more about Lisa and Linda at http://www.lisalindashine.com/


---


Idaho four-time Governor Cecil Andrus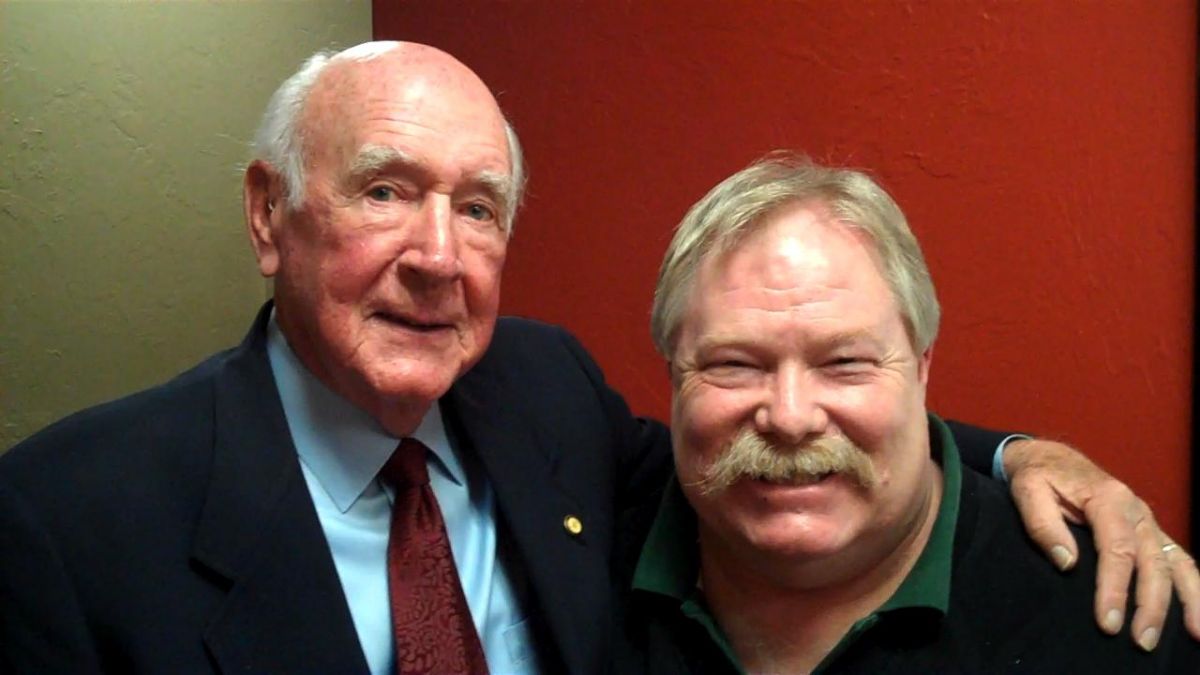 Four time Governor of Idaho and former Secretary of the Interior, Cecil Andrus, with RJ, photo was taken right after a rigorous four hour interview for his Video Biography. Cecil Andrus is a remarkable man, and I am grateful to have had the chance to meet and interview him about his amazing life.



---



MAIN STREET ALLIANCE OF OREGON VIDEO PROJECT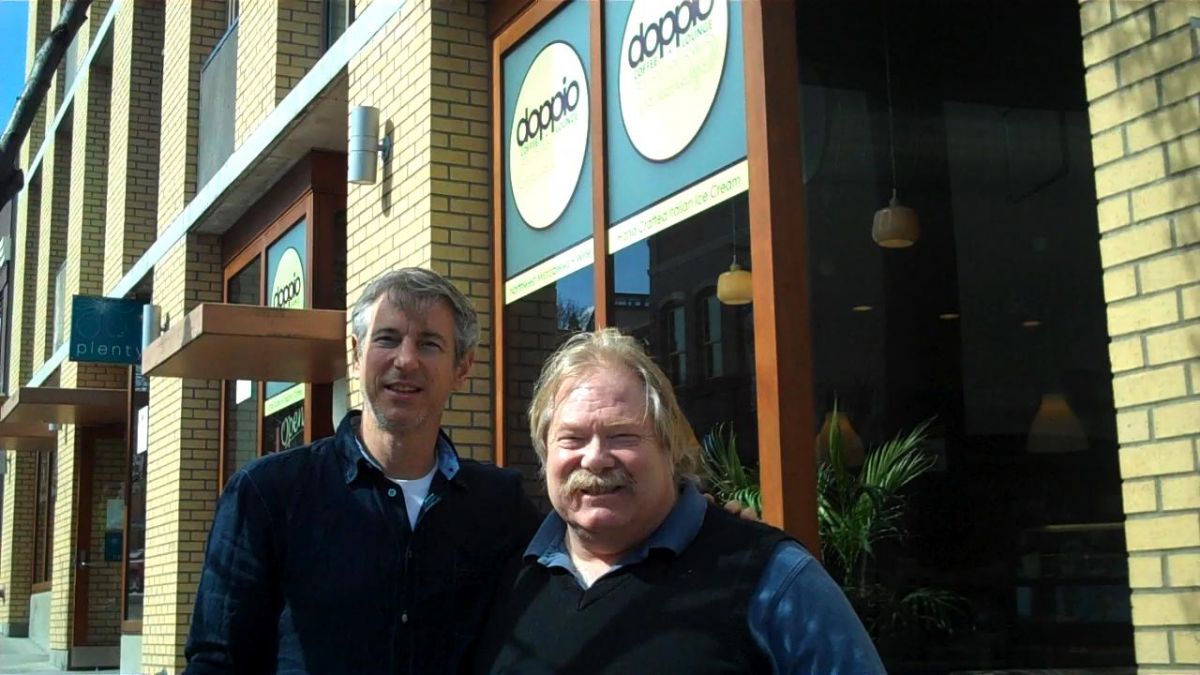 I really enjoyed meeting and interviewing Michael Barthmus, owner of Doppio Coffee & Lounge in Hood River, Oregon. I interviewed Michael for the Main Street Alliance of Oregon video project.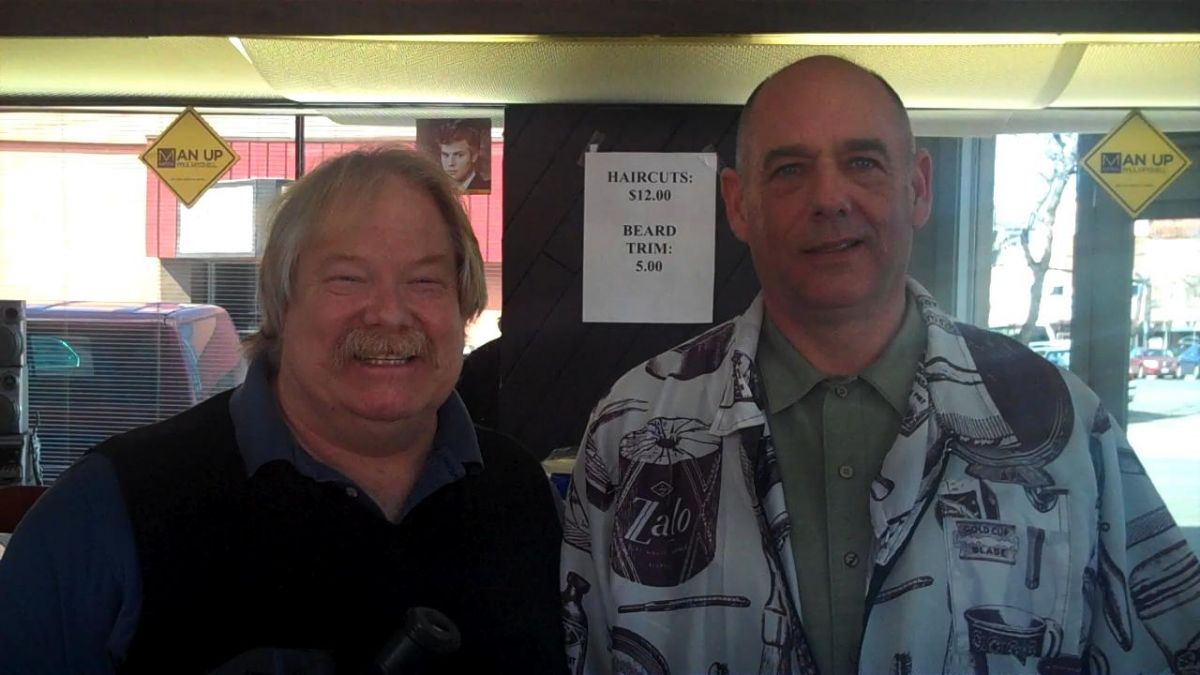 It was great meeting and interviewing Mike Nagle, owner of Uppercut Barbershop in The Dalles, Oregon today. I interviewed Mike for the Main Street Alliance of Oregon video project.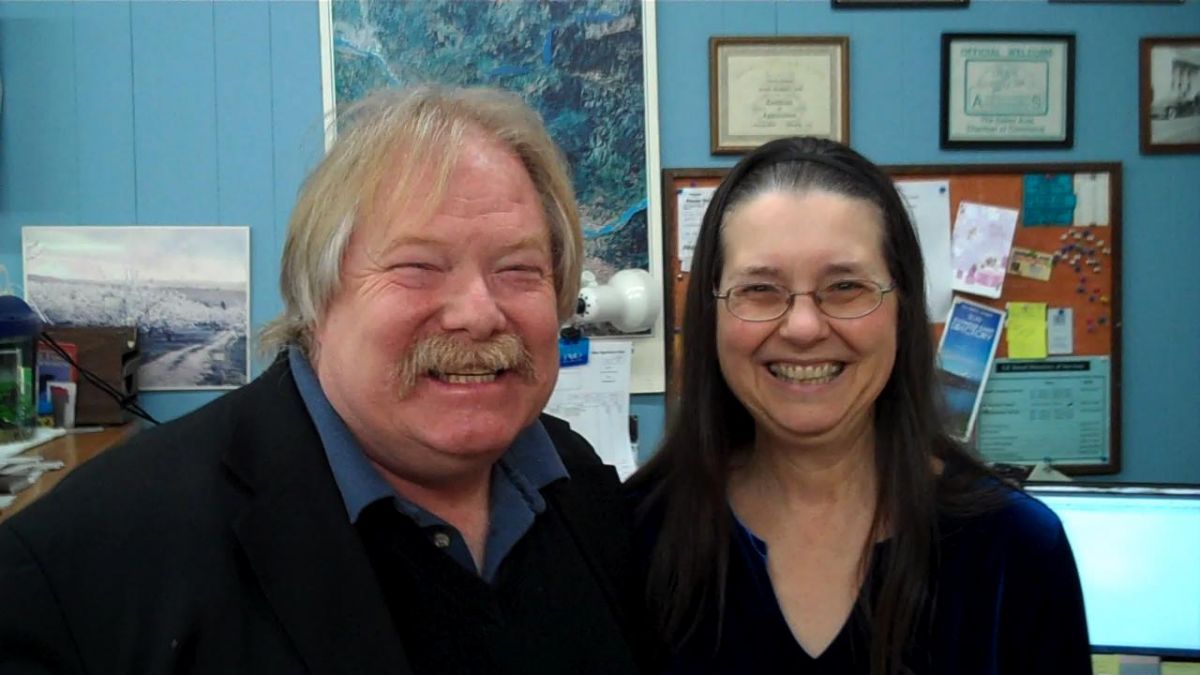 Had a great experience meeting and interviewing Leta Barclift, owner of Pioneer Electric in The Dalles, Oregon today. I interviewed Leta for the Main Street Alliance of Oregon video project.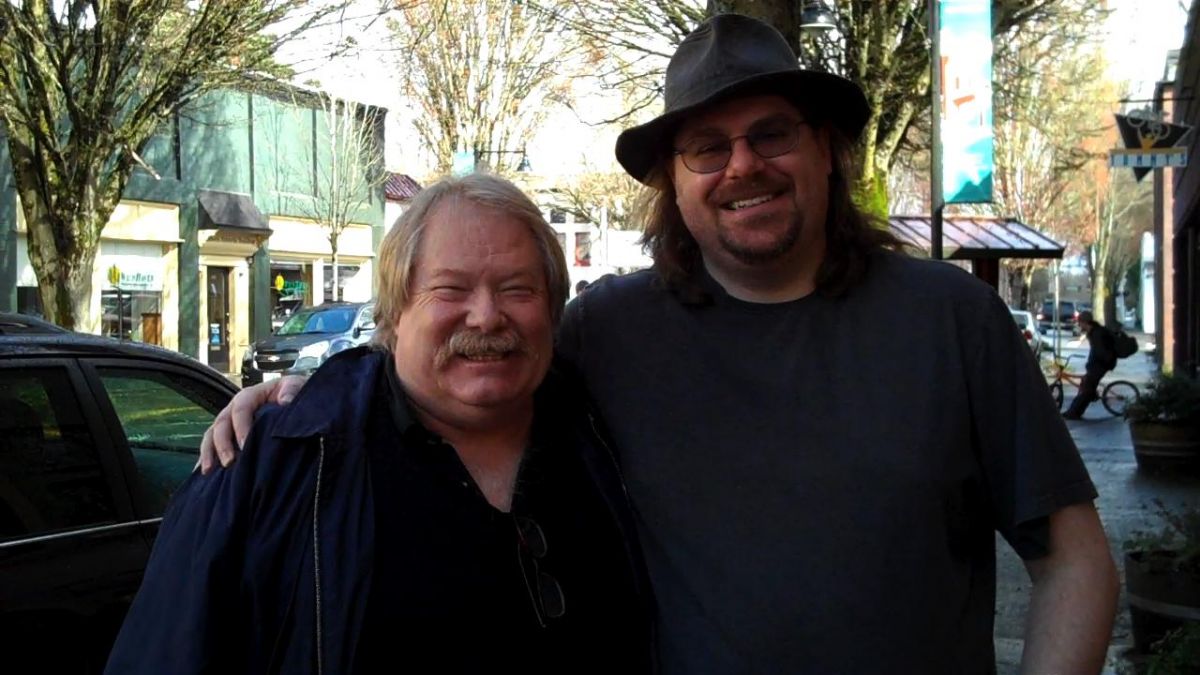 I enjoyed meeting and interviewing Jon Riegel owner of Jack of All Beads coop in McMinnville. I've never seen so many beads before. Very cool place for people to go to make your own necklaces or gifts. I interviewed Jon for the Main Street Alliance of Oregon video project.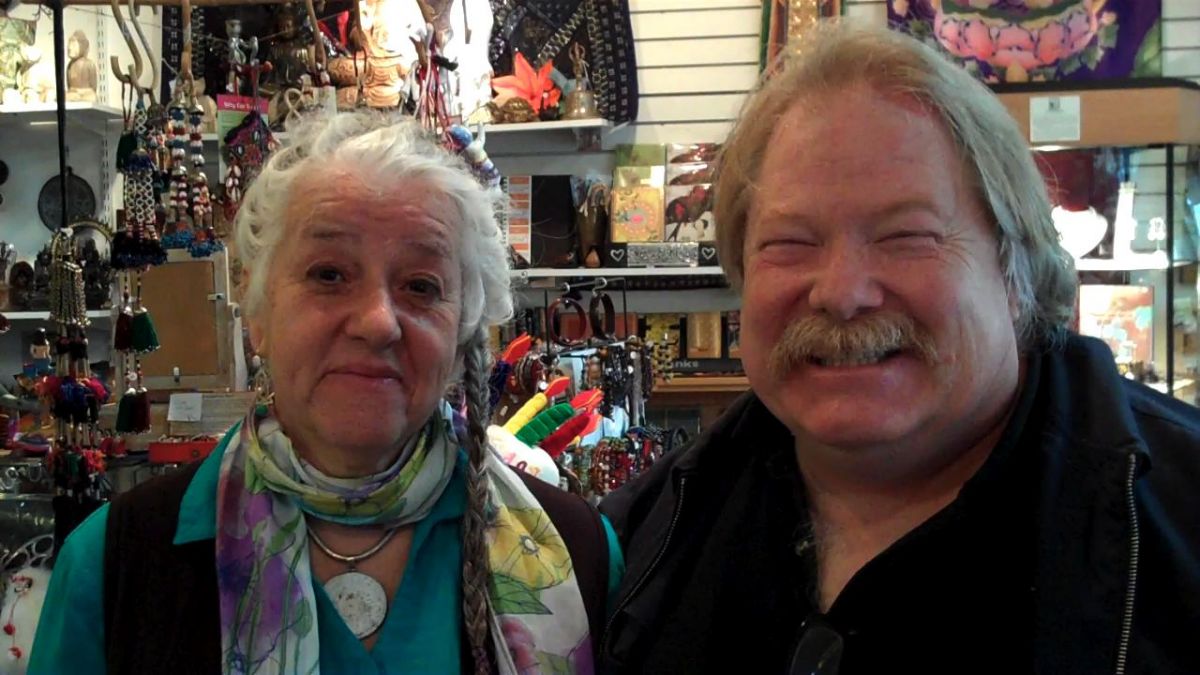 It was great meeting and interviewing Joan Kieban, owner of Greater Goods in Eugene. I interviewed Joan for the Main Street Alliance of Oregon video project. She let me try out the cool harps from Thailand.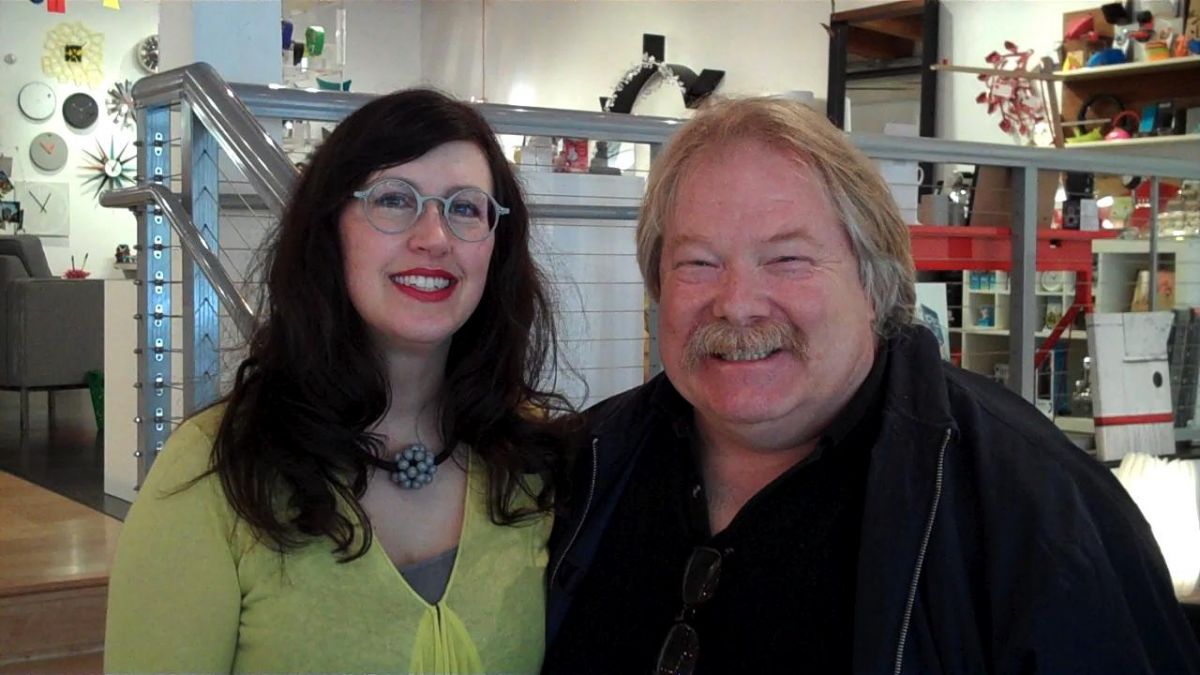 I really enjoyed meeting and interviewing Denise Sprengelmeyer, owner of the cool design shop Modern in Eugene. Denise is know all around as the Design Diva! I interviewed Denise for the Main Street Alliance of Oregon video project.


DAVID LICHT VIDEO BIOGRAPHY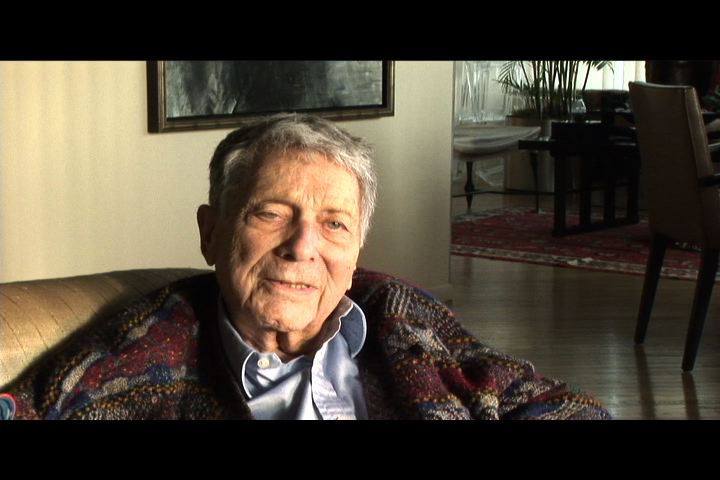 David Licht

I really enjoyed making the Video Biography of David Licht. David has led a
wonderful life: serving with injuries in the US Army in WW2, and
an interesting career as an entertainment attorney for a long list of famous
people like Don Rickles, Patty Duke, and Alfred Hitchcock's composer Bernard Hermann.


---



ABRAMS FAMILY HISTORY VIDEO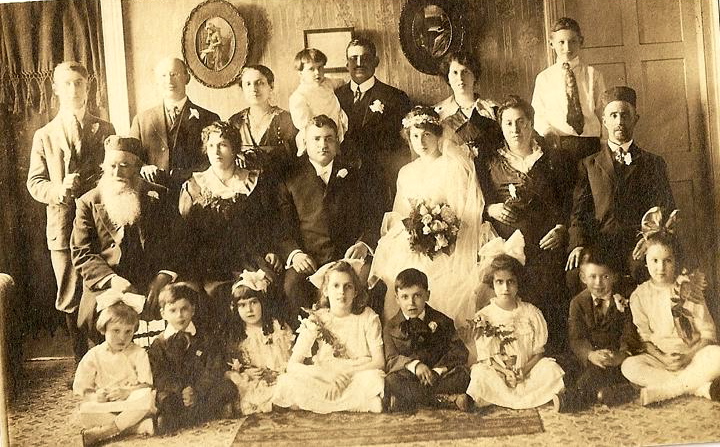 We are very proud to be producing the Family History Video for a great family.


---



ADVENTURES WITH TONY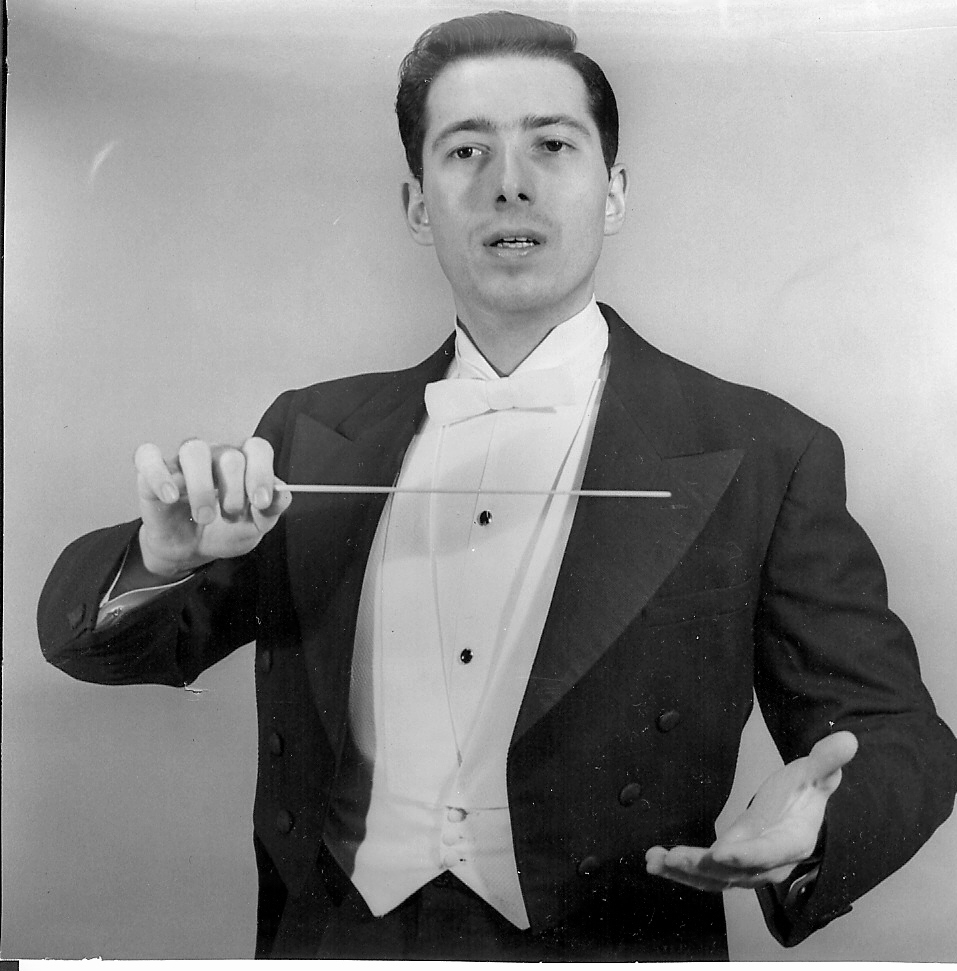 Tony Catanzariti


I enjoyed producing a fantastic video biography of composer and conductor Tony Catanzariti's Wonderful Life. Tony is hilarious and has so many wonderful memories of being a choral conductor for Oral Roberts, his travels to Europe, his career as a teacher, and especially of his loving family.



---



AN INTERVIEW WITH GENERAL GEORGE S. PATTON'S GRANDSON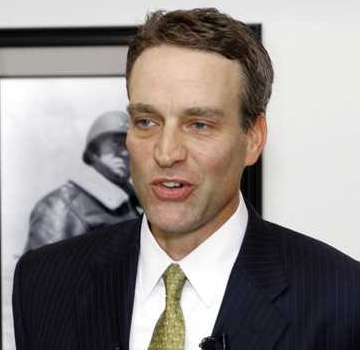 Benjamin Patton

Recently RJ interviewed Benjamin Patton, the grandson of the famous General George S. Patton, hero from World War II. Ben is a member of the Association of Personal Historians, a documentary filmmaker, bestselling author, and a video biographer. Here is a link to RJ's interview with Ben Patton. CLICK HERE.


---


Here are a few of the projects currently in our production pipeline.

To read Our October Newsletter: CLICK HERE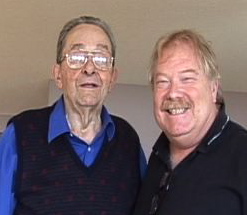 Dale Harlan with RJ McHatton

I really enjoyed my interview today with Dale Harlan, a war hero from World War II. Dale served in the Army Air Corp in the Battle of Midway and then as a paratrooper for the 101st Airborne (Screaming Eagles) in Holland and Bastogne and th...e Battle of the Bulge. Dale was injured in battle and earned two Purple Hearts, two Bronze Stars, and other medals. After the war Dale served in the Oregon State Legislature twice and was a practicing attorney for 40 years. Dale is a typical quiet hero living next door.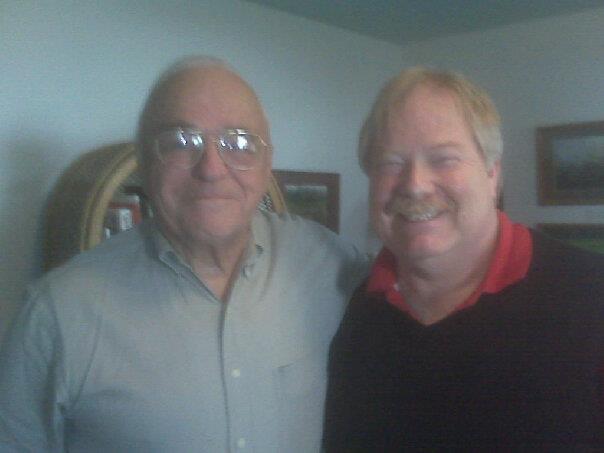 US Army Brigadier General Julius Braun (ret) with RJ McHatton

I enjoyed my interview with US Army Brigadier General Julius Braun who served in WW2, Korea, worked with Dr. Von Braun and German scientists on rockets, missiles and Space program.
Julius' father was a famous US General killed in WWII. Like father like son, they both became Generals.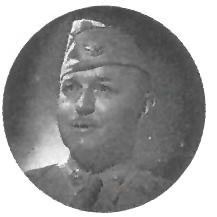 US Army General Gustav J. Braun.
US ARMY Brigadier General Gustav J. Braun, Jr. was the Assistant Division Commander of the 34th Division at the time of his death in 1945 in combat in Italy.
He was the highest ranking US soldier killed in action during WWII.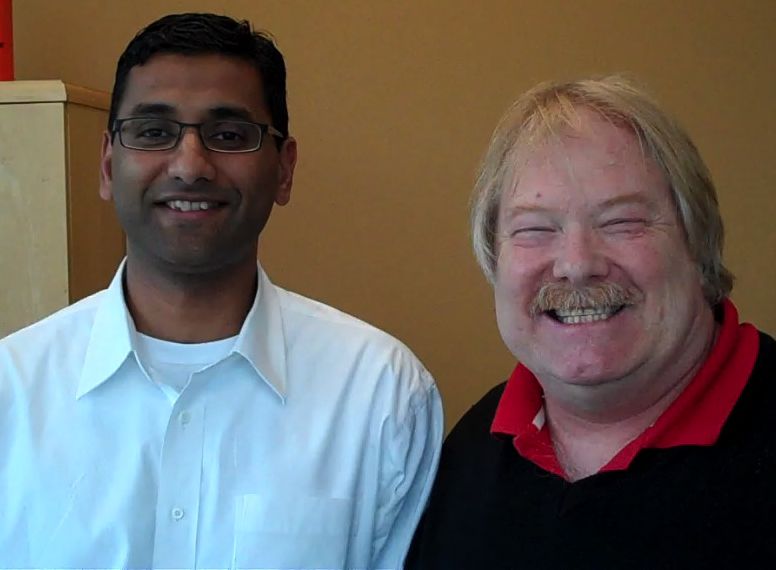 Sharath Dorbala, Senior Vice President of Vertafore, a very impressive company located in Bothell, WA. I interviewed Sharath for the Bellevue Chamber Eastside Business Awards.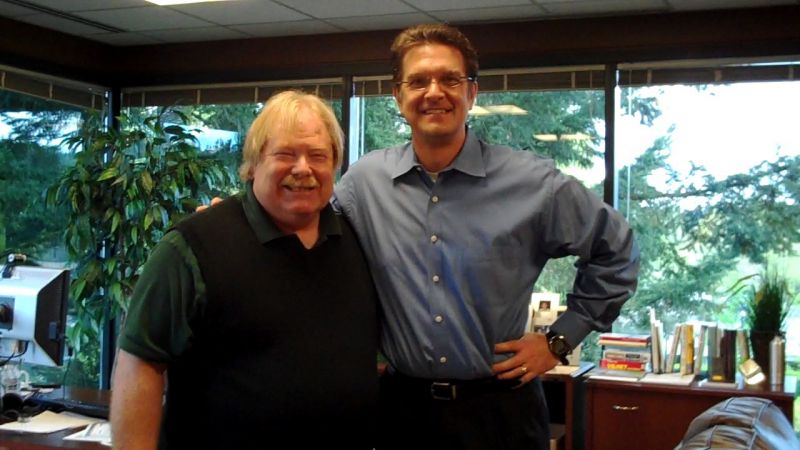 RJ with Patrick Husting, CEO of Extended Results, one of the top ten fastest growing companies in Washington. I interviewed Patrick for the Bellevue Chamber's Eastside Business Awards video project.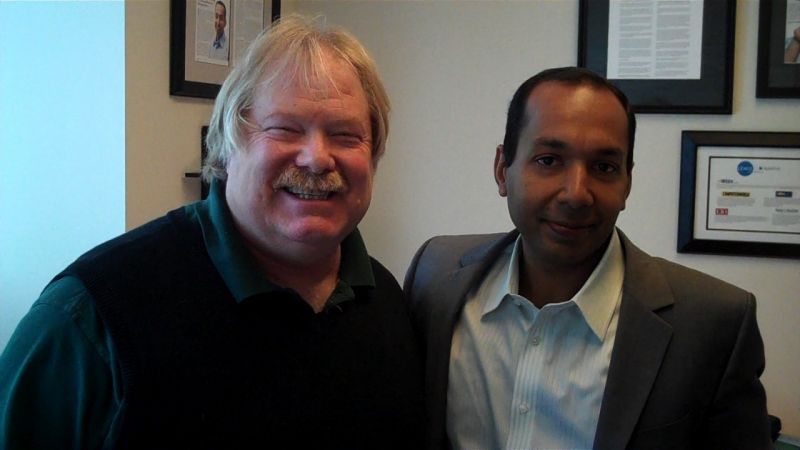 RJ with Sunny Gupta, CEO of Apptio, one of the fastest growing companies in America. I was very impressed with Sunny during my interview for the Bellevue Chamber's Eastside Business Awards video project.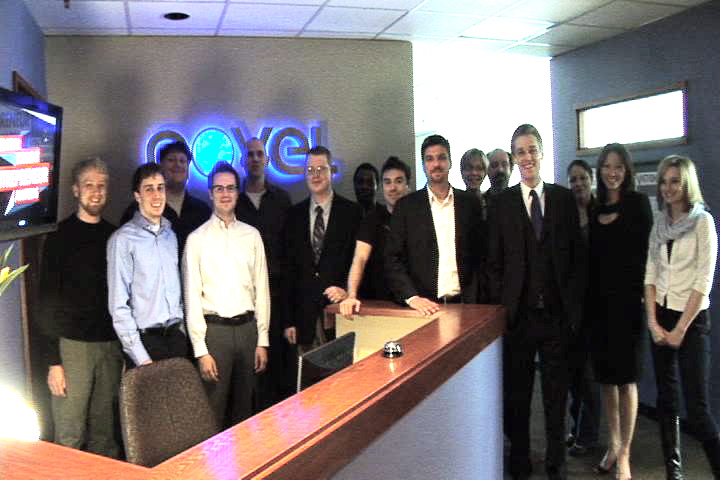 Here is Brayden Olson and the amazing team at Novel, Inc. Unbelievable, incredible interview with Brayden Olson, CEO of Novel, Inc. He is one of the most inspiring CEOs I have met so far. Incredible energy, very articulate, and super focused on his vision for Novel.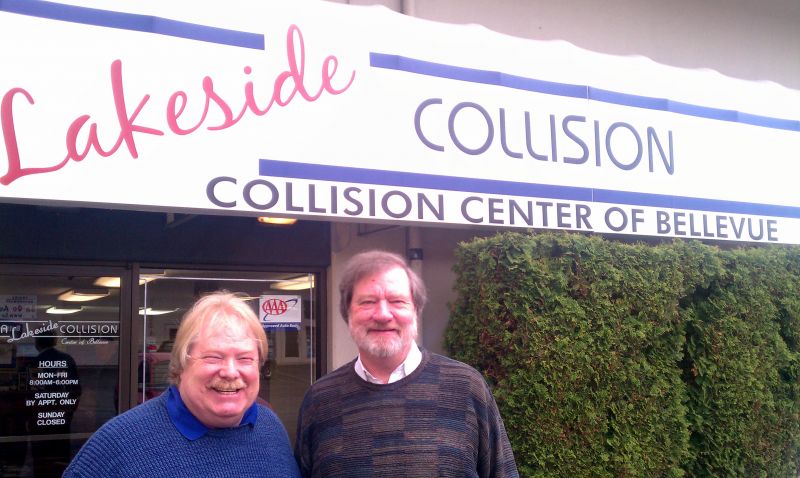 RJ McHatton with Chuck Oxford, owner of Lakeside Collision Center of Bellevue. It was great learning so much about how technology and relationships with customers for life has become the foundation of the new "body shop" business. I was very impressed with Chuck and his entire team. We were shooting a video about their company for the Bellevue Chamber Eastside Business Awards.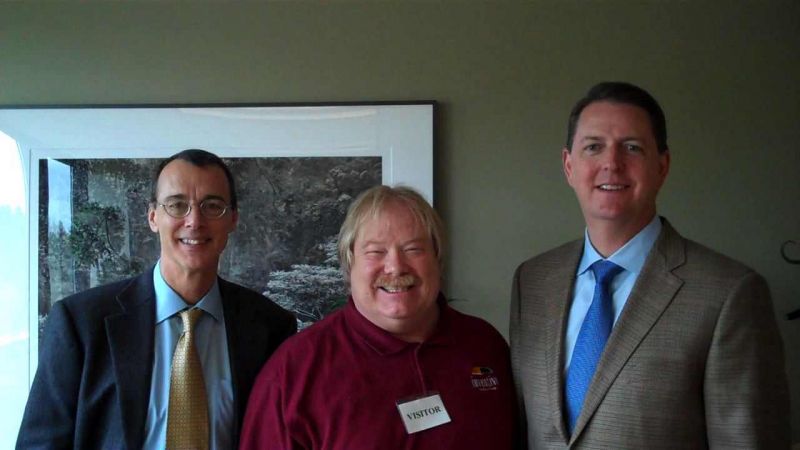 Tom Varga, RJ McHatton, and Bill Palmer.
I enjoyed my interview with Tom Varga CEO of CFO Selections and Bill Palmer CEO of CFO Selections Foundations for the Bellevue Chamber Eastside Business Awards video.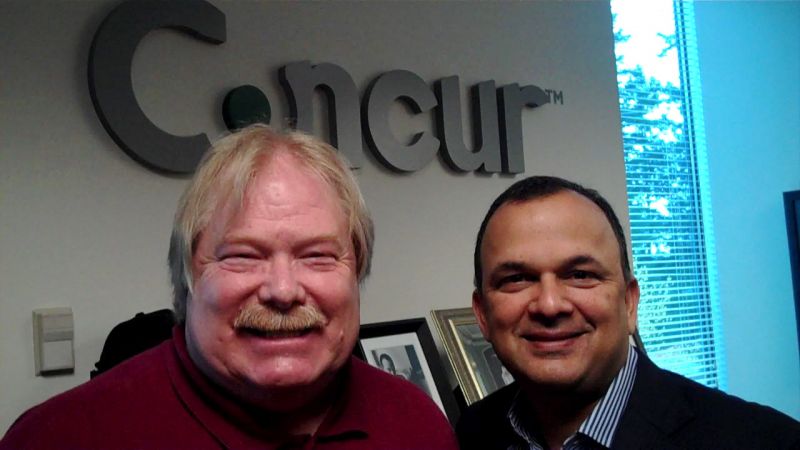 RJ McHatton and Steve Singh CEO of Concur.

It was a very inspiring and remarkable experience interviewing Steve Singh, CEO of Concur, for the Bellevue Chamber Eastside Business Awards video and my new documentary CEOs of AMERICA.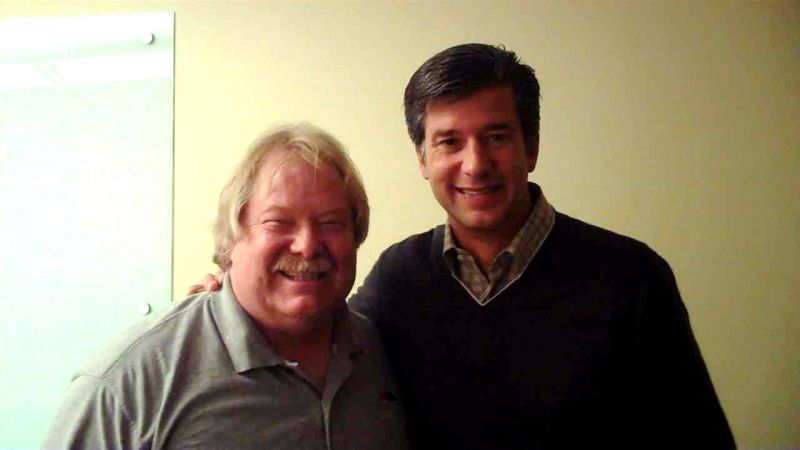 RJ McHatton with Ryan Wuerch, CEO of Motricity, one of America's fastest growing companies. This was shot as part of our video for the Bellevue Chamber of Commerce Eastside Business Awards.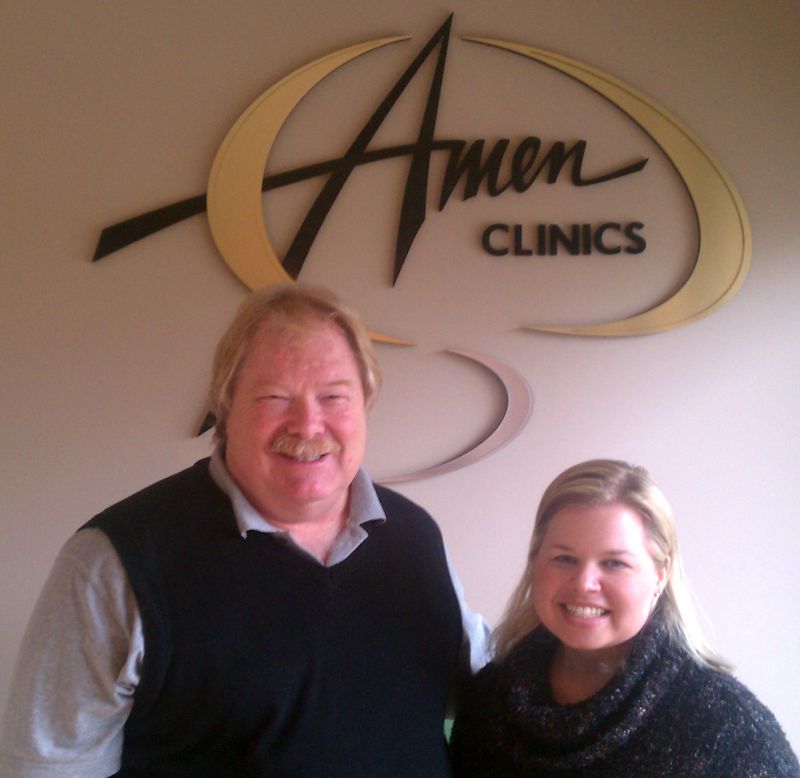 Rj McHatton with Holly Halweg, Manager at Amen Clinics in Bellevue, WA. I was very impressed with the entire team at Amen Clinics. They are so enthusiastic and great people. We shot some great video footage for the Bellevue Chamber Eastside Business Awards!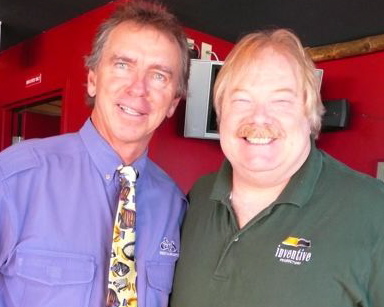 It was great meeting and interviewing Duke Moscrip, CEO of Duke's Chowder restaurants. Very inspiring story for my "CEOs of America" documentary project. Thanks goes to Producer David Ogle for putting this interview together, and for taking this photo.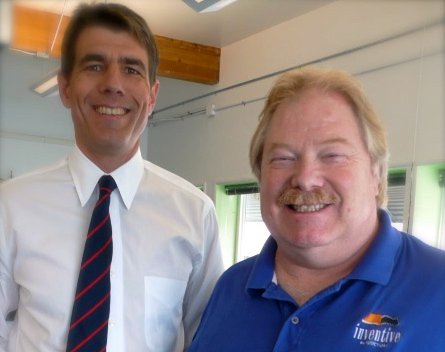 It was great meeting and interviewing Chris Martin, CEO of Cleanscapes of Seattle, WA for our "CEOs of America" project. Chris is a great leader who started his business because he got mad that no one was taking responsibility for cleaning up the neighborhood in the Pioneer District of Seattle, so he and a couple friends just did it! Great example of a small business with great leadership who is thriving in this new economy.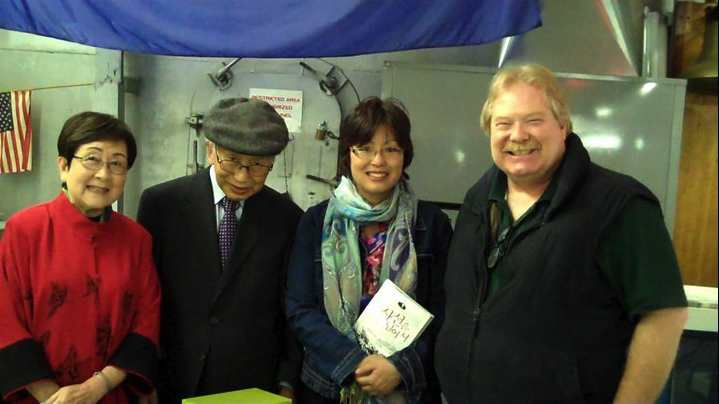 Grace Kim, Dr. Luke Kim, Esther Hyun, and RJ McHatton
Grace and Luke Kim, Esther Hyun, RJ McHatton at the Korean Celebration at the SS Lane Victory ship which saved over 7000 refugees during the Hungnam evacuation on Christmas Eve 1950. Subject of my documentary "Ship of Miracles" www.shipofmiracles.com
Esther Hyun's father, Dr. Bong Hak Hyun was called the "Schindler of Korea" because he personally convinced the US General Almond to take 100,000 civilian refugees on about 190 ships during the Hungnam evacuation on Christmas Eve 1950. I am working on the video biography of Dr. Luke and Grace Kim, too.



---

We had a great time at the Living Legends of Aviation event at the Beverly Hilton hotel. Our videos were well received, especially the cheers during the Jim Lovell video. Here are links to the videos for your review.

2011 Living Legends of Aviation

2010 Living Legends of Aviation

2009 Living Legends of Aviation


We are looking to bring on five new Producers. For more information call 425-243-9424
Recently we lost a great friend, John McDonald, to a bad car crash. We created a short memorial video that will be shown at events in May in Bremerton and Seattle. A while back John McDonald enthusiastically told me a great story about his youth, when he was on the football team at the Star of the Sea school in Bremerton. For tens of years the school had never won a single football game. Then suddenly when John and his buddies were coached by a local military man, they went to the State Championship!. John always said it was a great story that should be made into a film. Well, I am hoping to meet a lot of John's friends and put together a short film about that winning Season and that winning team. Coming soon!
RJ is just about finished with his new novel set in 18th century England. COMING SOON.
We are happy to be producing a creative "Documentary" style wedding video this May for a nice couple from Kirkland, Washington. These documentary style weddings are pretty cool because it is sort of like a reality show wedding!
We are almost finished creating a cool documentary about the 70th birthday party of Jim Zuur. Part documentary, part video biography, part party--this has been a very fun project about a great inspiring man.
---
---

Here is our September Newsletter: CLICK HERE

Here is our May Newsletter: CLICK HERE

Here is our Magnificent March Newsletter: CLICK HERE


---
---
We are proud to be producing the newcross-country roadshow of America's "Godfather of Change," Gordy Graham. I first met Gordy in 1988 when my dad and I went to a sales seminar with this most unusual speaker Gordy Graham at Eagle Crest Resort. I was instantly inspired by Gordy's unique true life story of overcoming self-imposed adversity to become one of the nation's leading keynote speakers, authors, and coaches.
To learn more about these events, go to
www.inventivespeakers.com
---
---
---
---
---
---
Have you ever been inside a Lear Jet? While we were down in Southern California for the Legends of Aviation event, we were commissioned by Bombardier Lear Jet Business Jets to make two short videos. One video was about the terrific VIP Private Party that was held in some hangars near Clay Lacy Aviation in Van Nuys. The party was awesome. The hangars were full of incredible array of Lear Jets and lots of interesting people. I was totally amazed at the great library of cool photos of celebrities who have owned Lear Jets. Danny Kaye, Frank Sinatra. Some of the most cool people of all time!
The second video Bombardier asked us to make was about the Legends of Aviation event itself.
Thanks to Bombardier Business Jets and Clay Lacy Aviation for the opportunity to make these videos.
---
---


We just finished making eight short videos for the Living Legends of Aviation benefit
dinner in Beverly Hills. This project included shooting videos about Elon Musk, Joe Clark, Buzz Aldrin, Kermit Weeks, Sam Williams, Hank Beaird, Dee Howard, and Kurt Russell. During the production we also interviewed Bill Peare, Bruce McCaw, James Raisbeck, Bob Hoover, and got to meet Tom Hanks. Here is the short introduction to the Legends of Aviation.







---
Interview with Cliff Robertson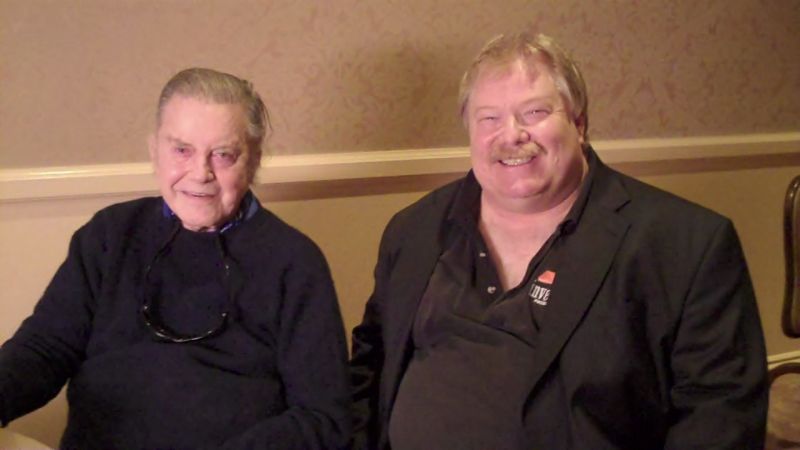 Academy Award winning actor and Legend of Aviation Cliff Robertson with RJ.
I really enjoyed meeting Cliff and he did a super job in the interview.
---
Interview with Buzz Aldrin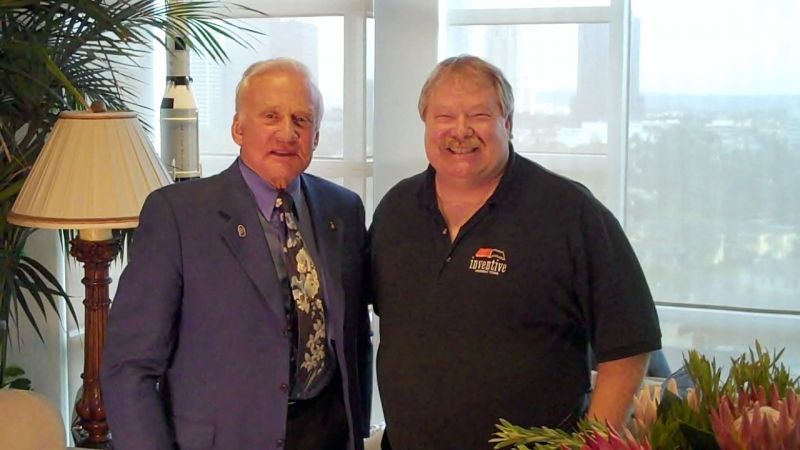 Astronaut Buzz Aldrin with RJ McHatton
It was fantastic interviewing Buzz Aldrin about his life and times. He is a man
with determination and focus on the future.
---
Interview with Bob Hoover
Bob Hoover is considered one of the greatest living aviators. He did a super interview
talking about his good friend Johnny Myers and several of the other Legends of Aviation.
---
Interview with Kent Kresa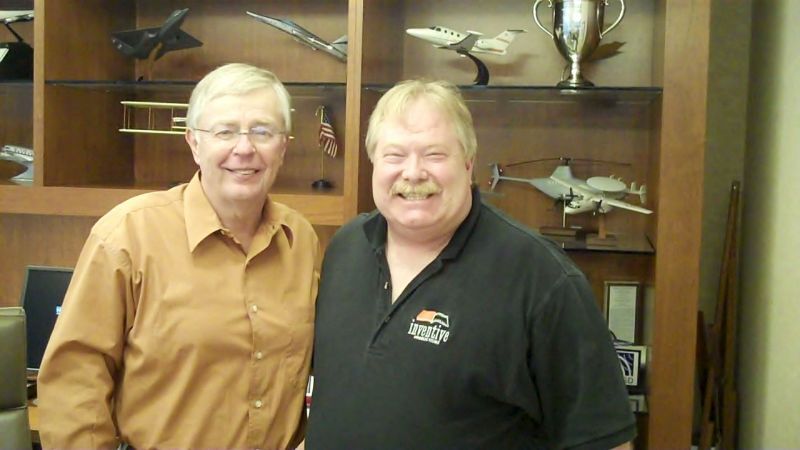 Kent Kresa is the former Chairman of General Motors and Northrop Grumman.
I interviewed Kent about his memories of Johnny Myers for my documentary
"The Flying Man: Life and Times of John Myers." Kent is a great guy and he
is a real visionary about the future of aviation and space travel.
---
Tom Hanks stops in during my interview with Kurt Russell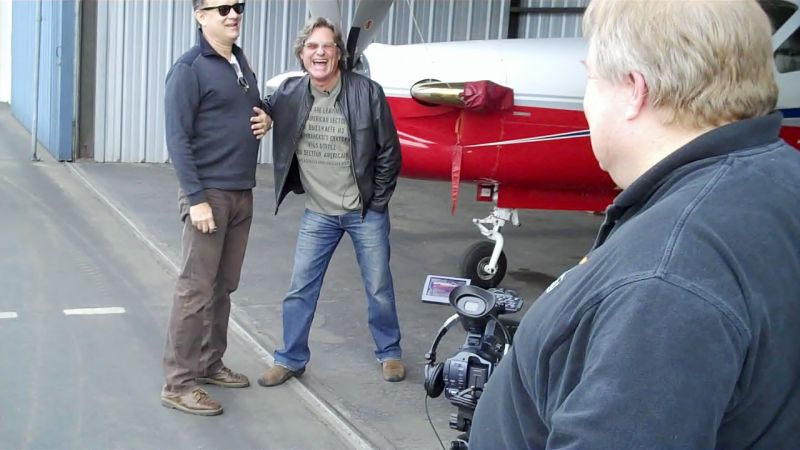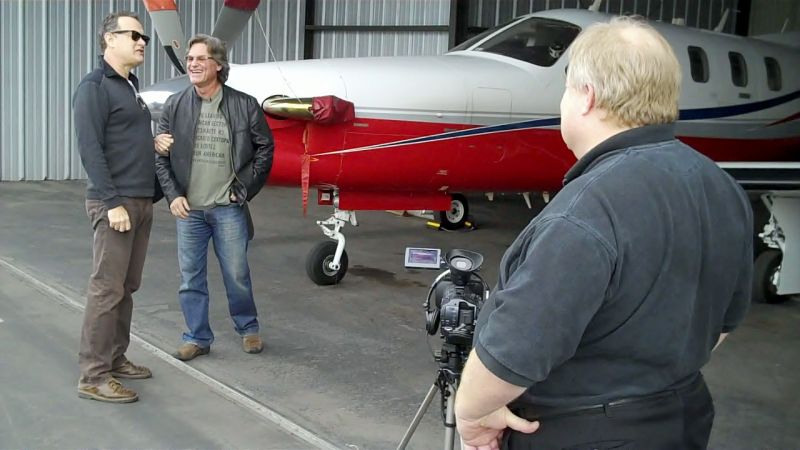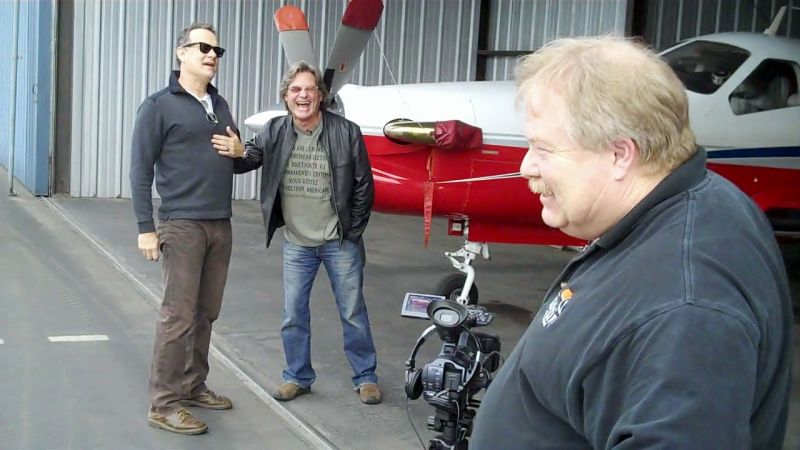 Here is Kurt Russell during our interview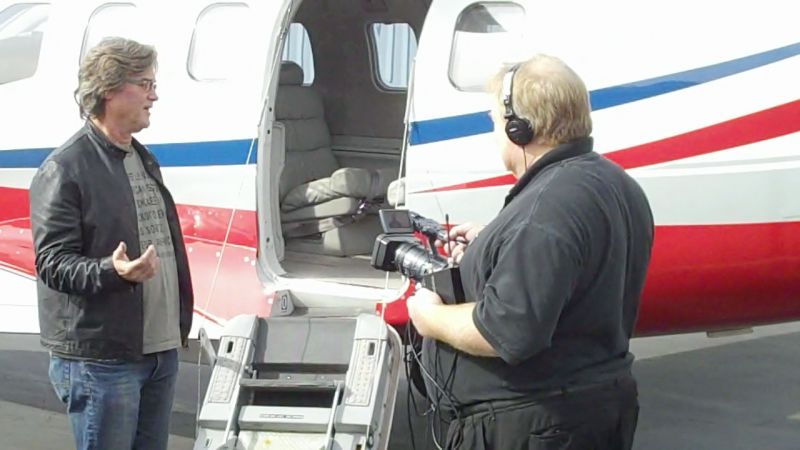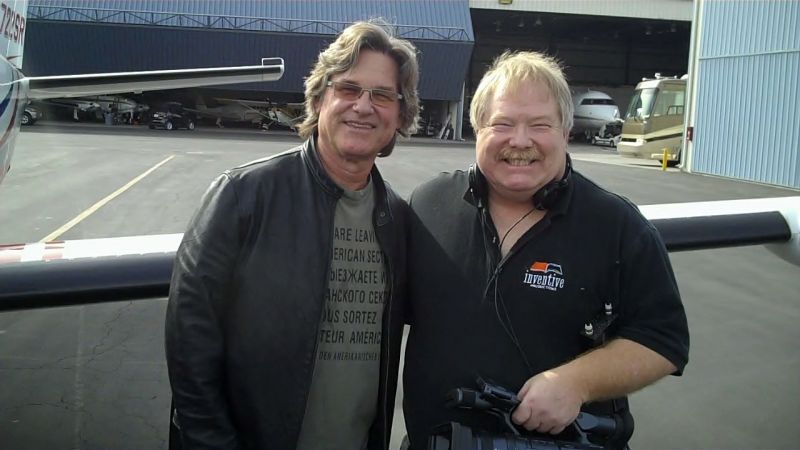 Kurt Russell with RJ
---
Interview with Jack Huyler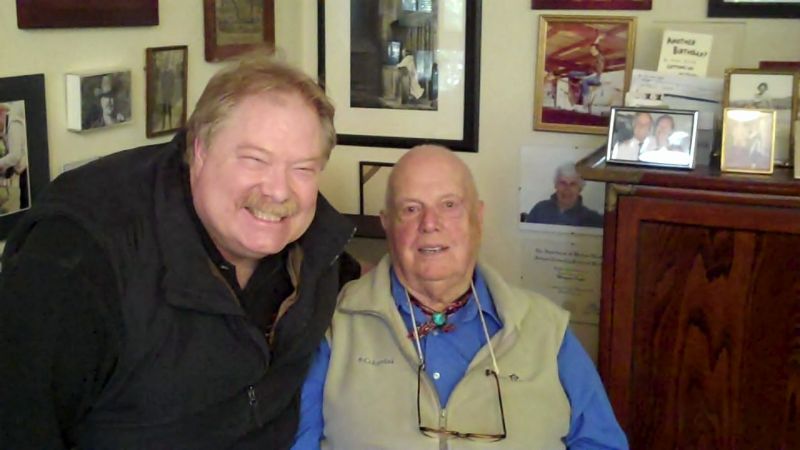 RJ with Jack Huyler at Thacher School
We drove to Ojai, California to interview Jack Huyler at the Thacher School where
John Myers went to school as a child. John Myers and Howard Hughes graduated
in the same class at Thacher. Jack was a life long friend of John Myers. We interviewed
Jack for my new documentary "Flying Man: Life and Times of John Myers."
---
Paul Hunsberger served for over 27 years in the US Army, at D-Day in World War II, in the Korean War, and in the Vietnam War.








---

Here is a link to our Inventive Productions BLOG.
---
For more info call 541-610-5053