Blog
October 16, 2008
Angus Robson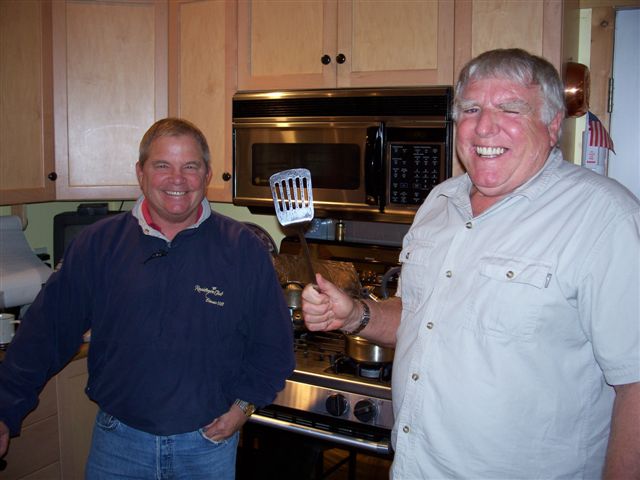 Here is a photo of Jimy White and Angus Robson.
I really enjoyed my time interviewing Angus Robson of Seattle for his Video biography. Angus told me stories about his childhood during the Blitz in London. He talked about the constant bombings and how it all was in the eyes of a child. Angus had led a very interesting life. He served in the British military in Europe and in Australia and New Guinea. He worked in the aviation industry and then began a long career as a restaurant owner in the University District of Seattle. He owned and operated the Unicorn, an authentic English Pub with authentic English food. Angus is a world traveller. His hero is Captain Cook. I can't wait to see the final Video Biography of Angus Robson. It should be incredible.
Paige Tangney - 2010-10-17 10:24:43
Greetings. I have been thinking about Angus recently and was delighted to see your project. I also would love to see your documentary. I worked with Angus at the Unicorn and learned many things about British food, beer, working hard and a lot about life. My stories aren't as colorful as Kathleens but I have a few for sure. Angus used to say he knew we were all going to write a book about him and the Unicorn and maybe your documentary is the answer to that. I am glad to see him hale and hearty.I wish him and Setsuko all the best, and would love to see your documentary. "Auntie Paige" aka Paige Tangney 206-227-6294 cell and paigehtangney@gmail.com. I will pass this information on to "Auntie Susan" aka Susan Richardson PhD, who I am sure would be delighted to post here as well...
Duncan Atwood - 2010-08-10 15:01:40
Greetings- I worked with Angus at the Unicorn in 1974-5. It was a cultural experience! Very interesting guy. We were members of the Hetchins Bicycle Society, and I'd love to contact him to talk bikes and catch up. Please pass on to him my contact information. Duncan Atwood cell 206-979-9791 email duncan@pocketvideos.com. I'm very interested to see your documentary about him. Please let me know how to do this. Thanks! Duncan
Hans Leistina - 2010-07-07 02:49:51
Angus - Please send me an Email.
kathi rick - 2009-06-07 13:42:14
my first job ever was with Angus at the Unicorn. i worked with him for YEARS and would have been content working for him forever if i hadn't gotten msrried and moved away. (He had a pool on my wedding day - the entire staff at the time came to the wedding and reception - whether or not i would actually go through with it). He also, i later found out - took my new (now ex) husband aside and told him if he ever hurt me he would nail his kneecaps to the floor). Those were some of the happiest times of my life - i do Angus impressions to this day - and will and forever shall be known as 'Auntie Kathleen' to those who knew me in those days (Angus pet name for me) i have a MILLIION Angus stories if you ever want them - from Setzuko throwing pans at Angus' head, to the rumble on christmas, to the cat burgler snd the skylight -to, well i could go on and on and on - Angus is STILL the BEST employer i have ever had the pleasure to work for - his temper and his kindness are legend - and he is the benchmark to which i compare how i treat others, his character has influenced how i treat my University students and i dare say has influenced many other aspects of my life as well - i think of him daily - he is a monumental, tempermental, fiery, passionate and compassionate force of nature. i LOVE him, and i OWE him - he taught me loyalty, a firece work ethic, and NEVER asked me to do anything he wouldn't do himself ten times over - THAT has become the mantra of my life!! kathi rick katecrackernuts@comcast.net
BiilYBonnYU - 2008-11-12 10:19:56
Excellent blog! Interesting article and very informative!
Gordon Studebaker - 2008-01-26 20:12:24
Jimmy, My wife and I are long time friends of Angus and Setsuko. We moved from Seattle in 1979. We kept contact maybe until 1985. We understand Angus and Stetsuko moved to the Metow (sp) Valley. Our email is gstudebaker@gmail.com. Our tel numbers are: 202-667-2984 and (cell) 202-557-8864. Can you get bthis message to Angus and ask him to email us. Would you be kind enough also to let them know we have been thinking of them. Thanks. If you cannot get our message to Angus, would you be kind enough to let us know. Thanks a million for your assistance. All the best. Gord0n Studebaker
Lisa Page Ramey - 2007-12-26 03:53:21
I was "googleing" a friend of mines Dads name-- Edwin Nixon, and it led me to your blog and the excerpt on Angus Robson. But when I got to the journal, there was no mention of Edwin Nixon. On google it breifly mentioned an "interesting story". Well, yes there is! Ensign Edwin Allen Nixon was a navy pilot shot down in Korea and presumed dead. He was not! Innterrogated for months as a POW he was discovered alive at the end of the war, to return to his wife and new baby girl on their first anniversary! Ed just wrote his biography and it was very good. I wanted to get more info from another source. Do you have additional info on Ed from Angus? If so, where can I find that?
Note: All comments must be approved by the post author.