Blog
January 18, 2009
Luke & Wes Myers, Grandsons of a Hero Aviator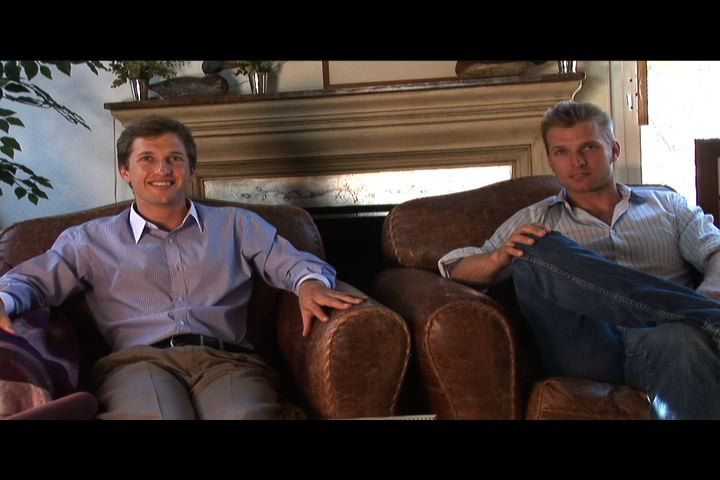 Luke & Wes Myers
Luke & Wes Myers, Grandsons of a Hero Aviator.
It was a gorgeous Sunday morning in Southern California. I drove up the beach past Malibu in my rental car, looking at all the joggers in bikinis. After a brutal winter up in Seattle, this sunshine was a great change for me.
I drove up the hill in Pacific Palisades to meet with Luke and Wes Myers, two grandsons of the legendary fighter pilot and test pilot pioneer Johnny Myers.
I was there to interview these grandsons for a short video biography I am making for the Legends of Aviation tribute dinner scheduled for Jan 22 in Beverly Hills.
Wes and Luke are great guys. They showed me terrific hospitality and generosity. I quickly set up my lights and camera and sound equipment.
They told me incredible stories about their memories of their grandfather. I could tell that they both had a tremendously close relationship with their grandfather. Both Luke and Wes were pilots too. There is aviation in the Myers blood.
I really enjoyed hearing the funny stories about the character and courage of Johnny Myers. He was an attorney who gave up his law practice because he wanted to fly. Over the years he flew them all. Johnny Myers had made many friends over the years and he was an iconic person.
Johnny Myers was world famous for his help in developing the Flying Wing and the Night fighter jets, predecessors to the Stealth bombers used today.
Wes and Luke brought out lots of great pictures of their grandfather. They told me some awesome stories about how Johnny flew helicopters and flew airplanes in his 80s. He loved to fly in the Reno Air Races, too.
Johnny had died less than a year ago at the age of 96 and it was a bit emotional for the family to talk about him. I could sense the pride and love these grandsons had for their grandfather.
I really enjoyed meeting Luke and Wes. I hope they like the video biography I am making about their grandfather.
Note: All comments must be approved by the post author.